Overview
AstraZeneca is a global biopharmaceutical company engaged in the research, development and marketing of ethical drugs. We are more than 83,000 colleagues in over 100 countries and our R&D activity is concentrated in three strategic centers: Cambridge (UK), Gaithersburg (USA) and Gothenburg (SWE) and R&D groups active in 40 countries around the world. By joining our team you will discover that science is not only at the heart of what we do, but it is also who we are. Every day, whatever our role, we are committed to finding solutions that really make a difference for patients. To face this challenge, we need the best talents, their commitment and their creativity.
Do you think you have these characteristics? Join us!
Our strategic priorities
We are focused on developing therapeutic solutions that significantly improve patients' lives and society. Our priorities are:
To be a leader in the therapeutic areas of Oncology, Cardiovascular, Metabolic and Renal, Respiratory and Immunology, Infectious Diseases and recently, Rare Diseases
Accelerate scientific innovation by seeking solutions that can prevent, treat and even cure some of the most serious existing diseases
Continue to be a Great Place to Work
Within AstraZeneca, the contribution and opinion of all the people who are part of it is important. For this reason, we periodically participate in surveys to establish the objectives of our Growth Through Innovation strategy globally.
Our Values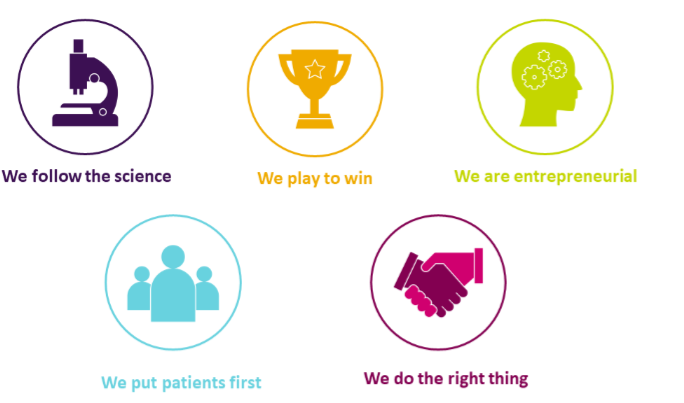 In AstraZeneca Italia we are a team of approximately 950 people, based partly in the headquarters of MIND - Milano Innovation District and partly located throughout the national territory. We all share the desire to bring innovation into the lives of millions of patients and we believe not only in the importance of what we do but also in how we do it. This is why, as soon as they join AstraZeneca, every colleague subscribes to our Code of Ethics, which defines our values and guides our behavior to provide life-changing therapeutic solutions.