Back to top
Global Operations: UK Apprenticeship Programme
Locations: Macclesfield, UK
Salary: Competitive
Our apprenticeship programmes have various start dates throughout the year, so be sure to check this page for available opportunities
About the North West apprentice programme
Our apprenticeship scheme offers a unique opportunity to learn and work in a multi-national company alongside industry experts. Many of our apprentices go on to enjoy full- term positions both in their apprenticeship department and other areas of the business. As well as gaining valuable work experience, you will have the opportunity to study towards a professional qualification, depending on your chosen department.
North East Cheshire Business Awards
Apprentice of the Year 2018: Won by Joe Jackson from AstraZeneca
The 'Apprentice of the Year' Award is presented to an apprentice who has striven to work and learn at the same time, to achieve great results for both themselves and their employer in the true spirit of apprenticeships.
This award celebrates someone who embraces the spirit of what apprenticeship schemes are all about; learning and working hard to benefit both themselves and their employer.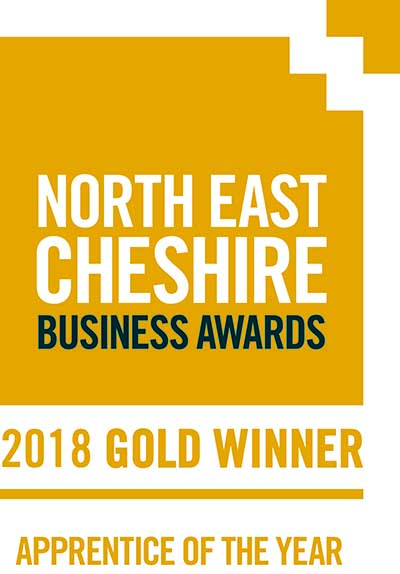 About the programme
Our apprenticeship programme starts annually in September and could include positions in the following areas at our Macclesfield site:
Manufacturing - This two year apprenticeship offers plant-based learning with practical, on-the-job training. You will rotate between plants and different products, working alongside industry professionals to gain a broad experience of each department.

Technician Scientist – This three year apprenticeship is laboratory based with a practical emphasis on either Chemical or Biological science. Working within Pharmaceutical Technology and Development or Quality your role will be formulating or testing life-saving medicines.

Engineering Maintenance Technician - During this four year course, the first year will be based at a local college to give you the core knowledge of engineering; following college your final three years will be based at site rotating between the various plants and technician roles, working alongside mentors to gain experience and plant knowledge.
Supply Chain – Located within a logistics team you will be working on a two year apprenticeship to ensure medicines reach their final destinations both in the UK and abroad. You could be working in the Clinical Supply Chain of Excellence, study management or warehouse.
Process Engineering – This three year apprenticeship will be based within our Pilot Plant with opportunities to experience Process Safety, Engineering and Particle Size Reduction sections as part of our Drug Substance Manufacturing area.
Project Management – This two year apprenticeship as a Project Administrator offers the opportunity to work in a dynamic working environment alongside Project and Change Managers who deliver a wide range of large, complex and novel projects.
Development opportunities
To fulfil your potential and create a lasting career, we will help you in any way we can, including:
Reporting to a supportive line manager and personal mentor
Giving you the chance to network and socialise
Professional and in-house training schemes and qualifications
Being a part of a successful team.
Essential requirements
What we're looking for:
Enthusiastic individuals with a passion to learn
Please view individual adverts for specific entry requirements
High aspirations and a desire to become part of a world-leading bio-pharmaceutical company
Alix Bennison – Quality Assurance Apprentice
Hi, my name is Alix and I work at AstraZeneca as a Quality Assurance Apprentice.
The department I work in is responsible for testing the quality of products to ensure that they meet the agreed standards before they are suitable for market and customer use. My current responsibilities include recording and storing important samples of medicines until their correct destruction date. I chose an apprenticeship at AstraZeneca as I was unsure of my career path. The programme meant I could get the experience and qualifications most employers look for.
Because my apprenticeship has allowed me to rotate through different areas in Quality Assurance, once I complete the apprenticeship I would like to apply for a permanent job in an area that suits me.
Explore our other school/college students programmes