In 2020, these programmes are not being offered as an opportunity.
Find out more about the programme
Our employees represent a rich variety of skills, experiences, talents, ethnicities and points of view. Our working environment is characterised by respect, integrity and growth opportunities, which encourage both individual contribution and collaborative entrepreneurial thinking. Approximately 50% of our team work in Research, 20% in BioPharmaceutical Development and 10% in Clinical Biologics and Regulation. Our remaining team members cover a wide range of vital support functions. We encourage our employees to feel a sense of ownership about their future and to make the most of the opportunities that arise when working within integrated project teams with AstraZeneca colleagues around the world.
Our focus on therapeutic proteins, monoclonal antibodies and other next-generation molecules to attack a range of diseases puts us at the forefront of biologics research and development. We follow the science and push its boundaries to bring life-changing medicines to patients.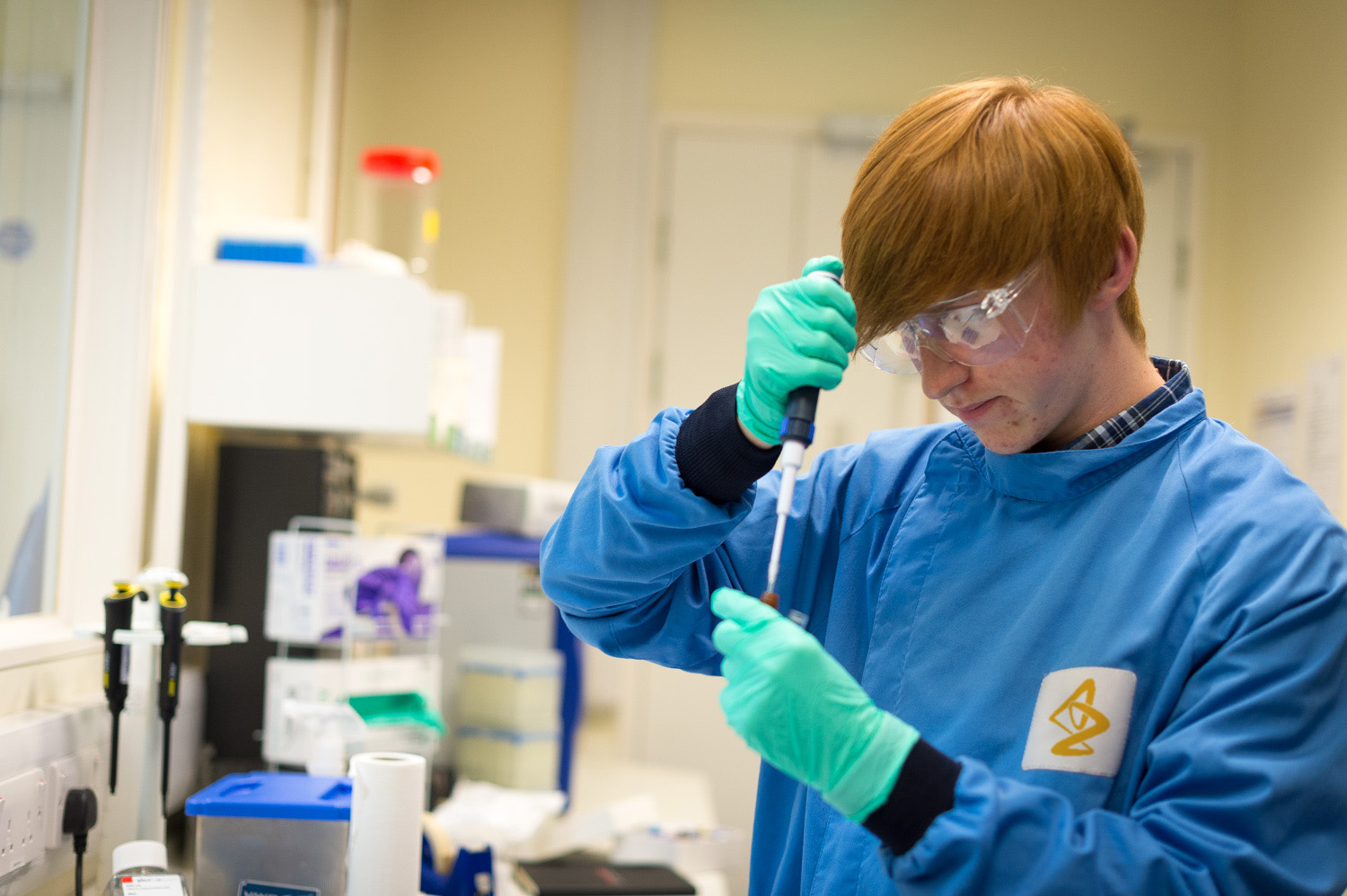 In-Vivo Services
An opportunity to learn side-by-side with a diverse team of therapy area experts at the cutting-edge of research. You will learn how scientific research is executed in an industry setting to deliver meaningful data to help guide early stage drug discovery and later stage development of new medicines. With extensive training and support, you will contribute to the execution of experiments to build our understanding of the biology of our drug candidates. This will include preparing protocols, preparing materials for experiments, troubleshooting, maintaining experimental documentation and reports with minimal supervision.
Laboratory Automation
As a laboratory automation engineer, you will be responsible for ensuring that automation and support activities advance the research objectives and mission of the R&D domain. The automation engineer will work with scientists across R&D to analyse current laboratory practices at AstraZeneca and identify opportunities to use automation.
Antibody Discovery & Protein Engineering
Working independently and as part of a team on the development of therapeutics. You will receive full training in a variety of laboratory-based techniques including molecular and cellular biology, protein engineering, protein expression or biophysical analysis. You will gain basic and applied knowledge in diverse areas like genetics and protein expression. This research experience will teach you how to design and execute experiments, analyse and interpret results and finally report your findings to a variety of audiences. You will have a mentor for the duration of your apprenticeship, and you will have the chance to learn side-by-side with experts at the cutting-edge of research. In this collaborative biotech environment, you will develop a scientific and critical mind. This fantastic opportunity will give you the skills and knowledge to continue your scientific career, with both industrial and academic options.
Pathology
Within our team of histopathology scientists and pathologists at our Cambridge Pathology facility, you will be supported by a team of experts and will have the opportunity to learn and to carry out a wide range of technical and scientific activities which include Pathology laboratory-based investigations and scientific experimentation using Immunohistochemistry-based assays. You will gain knowledge of normal and disease biology and the experience to support projects from novel target discovery and validation through to patients in the clinic.
Cardiovascular, Renal and Metabolism
This is a great opportunity to join the in vitro drug discovery team within the Cardiovascular, Renal and Metabolism (CVRM) group at AstraZeneca. The CVRM group develops medicines for a wide range of metabolic diseases including diabetes, obesity, cardiovascular disease and chronic kidney disease. You will be involved in supporting drug projects across all of these diseases, from target validation to the clinic, to help gaining insight into the mechanism of action of our medicines and to help patients stay healthier for longer. The role will involve the use of cutting-edge scientific technologies to perform cell-based screening assays, data interpretation and analysis, and molecular biology procedures. In this role, you will gain solid laboratory skills, excel as a team player and develop a first-rate understanding of metabolic disease.
Research Bioinformatics (Graduate/Master's Level Apprenticeship)
As an Informatics apprentice within Research Bioinformatics, you will be learning how to develop software for both one-time analysis and robust, widely used scientific tools and systems. You will build an understanding of biology, drug discovery and computer science to help discover new therapeutics and develop new technologies.
Candidate criteria
We have one of the most exciting pipelines in the industry, with a close-knit team of the brightest minds in the world – it's an exciting time with huge potential to grow and expand your knowledge and skills. Find out what qualifications we require and what we're looking for.
What skills and qualifications are we looking for in applicants for our technician scientist apprentices?
A minimum of five GCSEs or equivalent at grades A*-C or 9-4 including English language (not literature), Science and Maths.
Must have/be predicted to achieve a minimum of 96 UCAS points from your top three A-Levels (or equivalent).
You must have an A Level (or equivalent) in Chemistry or Biology depending on which apprenticeship you hope to study.
What type of candidate are we looking for?
Bright, motivated individuals with an enthusiasm for learning and an eye for detail.
Individuals with the ability to work with others as part of a collaborative team, and with the flexibility to undertake a variety of tasks.